An interesting comparision done by Sowmya Sundar regarding the attractiveness of Fixed Deposits.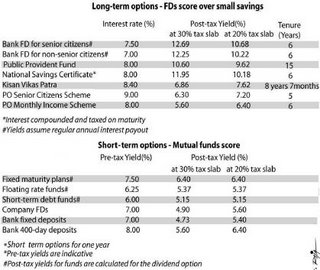 This mode of investment has been popular amongst the retail investors, but recently due to taxable nature of the interest earned and lower interest rates by banks, FDs had lost the sheen. With the finance minister announcing (PDF File) in 06 budget that



Last year, I recast the provisions relating to savings. Fixed deposits were not included.

There is a demand that fixed deposits of certain tenure should qualify for tax exemption. I

propose to include investments in fixed deposits in scheduled banks for a term of not less than

five years in section 80C of the Income Tax Act.



the FDs will again be gaining popularities. Also with the RBI increasing the repo rates, the interest rates given by banks on FDs is on rise. This is a good news for retail investor, who does not want to risk his capital in the equity based markets. As per my knowledge, the banks are increasing the interest rates on FDs even more than what is depicted in the above picture...yoohoo... more the merrier !!